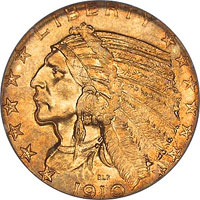 The Indian Half Eagle mintages range from a low of 34,200 to a high of 3,423,560. The denomination was minted at three different branch Mints with 5 years of production at the Denver Mint, one year of production at the New Orleans Mint, and nine years of production at the San Francisco Mint. Coins were produced at the Philadelphia Mint each year the series was produced except for 1916.
The 1909-O is considered a key date of the series due to its low mintage of 34,200 pieces. However, another example with a higher mintage is even more valuable due to extensive melting which occurred. This is the 1929 coin struck in Philadelphia.
Below is a table of the mintage figures for the Indian Head Gold Half Eagle. These figures represent coins struck for circulation and do not include proofs.
Indian Head Half Eagle Mintages
| | |
| --- | --- |
| 1908 | 577,845 |
| 1908-D | 148,000 |
| 1908-S | 82,000 |
| 1909 | 627,060 |
| 1909-D | 3,423,560 |
| 1909-O | 34,200 |
| 1909-S | 297,200 |
| 1910 | 604,000 |
| 1910-D | 193,600 |
| 1910-S | 770,200 |
| 1911 | 915,000 |
| 1911-D | 72,500 |
| 1911-S | 1,416,000 |
| 1912 | 790,000 |
| 1912-S | 392,000 |
| 1913 | 915,901 |
| 1913-S | 408,000 |
| 1914 | 247,000 |
| 1914-D | 247,000 |
| 1914-S | 263,000 |
| 1915 | 588,000 |
| 1915-S | 164,000 |
| 1916-S | 240,000 |
| 1929 | 662,000 |